Britain in Lockdown 2020 – A 22 Day Diary
During the first national lockdown of 2020 I posted 22 consecutive posts entitled Britain in Lockdown. Each was a short summary of the updates in the news, the UK government directives, and my feelings about events. To make it easier to read them I've amalgamated them into this single post.
Note: That was then and this is now. Two years later we're much better informed and I no longer hold some of the views I expressed during those three weeks in the posts below. As data has emerged and the people involved have owned up to it, it's become apparent that some of the conspiracy theories were in fact true all along.
Britain in Lockdown: Day 1 – 24th March
Yesterday evening on the 23 March 2020, the Prime Minister Boris Johnson addressed the nation at 8.30pm and announced new measures introduced to limit the spread of Covid-19, the Corona virus.
A first national lockdown had been anticipated since it was the only way other countries were able to slow the infection rate and get it under control. Italy, which so far has lost over 6,000 citizens to virus, has had lockdown in place for two weeks.
Here in the UK we've already been advised to limit our journeys to the essential only, avoid gatherings of any kind, and to keep two metres away from each other. One of several new terms has entered our everyday speech – social distancing.
However, these guidelines were not being followed by a great many people. Last Sunday, the 22nd March, the spring sunshine enticed thousands out into city parks, beaches, and national parks. People flocked out of the cities into the countryside and there were even record crowds on the slopes of Snowdon, despite the efforts of a few locals telling people to go home.
In Cornwall, local people pleaded with the second home owners from the cities to stay in the city and not to make the journey down the motorways to their holiday homes. Cornwall has only one hospital with an A&E department so if the infection rate increases there they will be easily overwhelmed.
All over the country, people were doing what they always do – getting outside to enjoy the fresh air but in doing so probably accelerated the spread of the virus.
So as of this morning, the 24th March, most non essential shops are shut and the vast majority of people will be at home for at least three weeks. There is a ban on gatherings of more than two people, though how that can be enforced in the length and breadth of Britain is anyone's guess.
UK Lockdown Rules
The rules seem straightforward enough but they rely heavily on a sense of personal responsibility. Given how some have behaved in the past few weeks there will be many who ignore these lockdown restrictions.
Stay at home. We can only go out to shop for necessities i.e. buying food and medicine, and even then we should minimise the number of journeys.
Avoid social contact. We can leave our homes once a day for excercise; walking, cycling, or running.
Exceptions. Leaving home for medical reasons e.g. caring for other family members who need support is allowed.
Avoid all non essential travel. Work from home if you can. Anyone who can't work from home can travel to and from work using private or public transport.
Obviously, even if everyone adheres to these rules rigidly there will be some interaction between people on transport and between each other, so the overall effect will be to slow but not stop the infection rate.
Consequences of Lockdown
There are going to be so many repercussions to all this it's hard to know where to begin. There will be some positive benefits but it's likely to take years to repair the damage to the economy. Our way of life may change forever, or perhaps it will only change for a while and people will revert to old habits as the memory of 2020 fades.
There'll be far less pick-pocketing and shoplifting. House burglaries are likely to drop dramatically with everyone at home (nervously guarding their small stockpile of food, toilet rolls, and hand sanitiser), but perhaps thieves will switch to breaking into the shops in empty streets. The Police will have to priortise their efforts.
Many small businesses will cease trading and a lot of people will get into debt, particularly the self-employed who are unable to earn a living of any kind and for whom there is no government support. Some employers have been promised a grant to pay 80% of their furloughed employees' wages (up to a limit of £2,500 per month). There will be a VAT payment holiday and a business rates discount for businesses with a rateable value of £51,000 or less.
On a more positive note people are going to learn more about themselves and each other. They may learn new skills, get fitter, and more appreciative of life, society, and relationships. A generation of children may learn how to grow food, cook, and develop a sense of personal responsibility. Perhaps that sense of entitlement that we've heard so much about in recent years will lessen as people cease to take things for granted and learn to appreciate what they have at home.
Was the Covid 19 outbreak predicted?
Many have shared images from a book of fiction from two decades ago in which there is mention of Wuhan virus pandemic, which is itself a bizare coincidence, but far more serious is that a scientic journal predicted the coronavirus pandemic in 2007.
It seems the warning signs were there 13 years ago in a Clinical Microbiology Review paper about SARS-COVID-like viruses, but then again even the lay person could predict that that the bush meat & wet market trade was storing up trouble.
The presence of a large reservoir of SARS-CoV-like viruses in horseshoe bats, together with the culture of eating exotic mammals in southern China, is a time bomb.

Severe Acute Respiratory Syndrome Coronavirus as an Agent of Emerging and Reemerging Infection Vincent C. C. Cheng, Susanna K. P. Lau, Patrick C. Y. Woo, and Kwok Yung Yuen* State Key Laboratory of Emerging Infectious Diseases, Department of Microbiology, Research Centre of Infection and Immunology, The University of Hong Kong, Hong Kong Special Administrative Region, China
Day 2 – 25th March
It's all about the numbers. Yesterday, during Day 1 of our first national lockdown we were told that there had been a sharp rise in daily deaths in the UK but Italy had seen its second consecutive day in which the number of deaths declined. It's too early to tell but perhaps the impact has peaked in Italy. Nevertheless, nearly 7,000 people have died there already.
The death total in the UK has reached 422 but the pattern is very similar to Italy's, so if lockdown doesn't work or is ignored by enough people then we can expect thousands dead in the UK within a fortnight.
The Health Secretary Matt Hancock announced that the Excel exhiibtion centre in London would be transformed into a field hospital with space for 4,000 beds. He also launched a scheme to recruit 250,000 volunteers to help the NHS. Anyone stepping forward can expect to be delivering medicines from pharmacies, driving patients to appointments and bringing them home again, or simply phoning people to check on their condition. Another 35,000 additional workers made up of retired and student medical staff have already signed up
Lockdown Restrictions
The lockdown rules have left lots of grey areas open to interpretation. The TV and radio chat shows are full of people discussing what constitutes an essential worker and how to answer questions from the public about their particular circumstances.
This was inevitable with such a quickly drawn together plan for the activities of 65-70 million people. I doubt anyone really knows exactly how many people there are in the UK. For example, recently there has been mention of 1 million 'undocumented migrants' – the new euphemism for illegal immigrants. When you consider the living conditions of many in the cities it's not hard to imagine how difficult it must be to adhere to the standards of hygiene and social distancing that are expected of us all.
Presumably this was all discussed during the UK government's COBRA meetings and they came up with a plan that might slow the spread of infection but with no realistic hope of stopping it. One can only wonder what percentage they came up with and what the real trajectory looks like.
Yesterday there were full trains on the London Underground. Some of the passengers were essential workers but many others were construction workers. Due to drastically reduced demand Transport for London has been running a skeleton service, so those people still travelling to work have been squeezed into the remaining trains, making a mockery of the whole social distancing idea.
So on the one hand there are people queuing 6ft apart at supermarkets and petrol stations while on the Tube people are packed together like sardines. The streets are nearly deserted and the Police are patrolling, breaking up groups of more than two people.
How People Are Coping
Thankfully most of the UK is enjoying clear blue skies with little wind, so for the second day of lockdown we have woken to stillness and the promise of a warm spring day. The absence of aircraft in the skies and the greatly reduced road traffic has created an odd sensation. It's as if life is on pause, which I suppose it is.
It's far too early to determine how people are going to cope. So far, the novelty factor hasn't worn off. There's a strong sense of 'we're in this together' as people share stories of home schooling, exercising, or cooking with 'whatever's in the cupboard'.
Many are using social media to express themselves in a variety of memes and videos. I wonder how long that sense of humour will last. Probably as long as there's food in the fridge and toilet rolls in the bathroom.
Our local shops still have plenty of food but lots of empty shelves too. As long as people don't hoard and buy only what they need then we should all be fine, but it varies from place to place.
There are still hundreds of British citizens abroad trying to get home amidst all the flight disruptions and lockdowns.
There has been some vandalism of food delivery vehicles and ambulances. Some thugs who were asked to disperse spat and coughed at the Police officers. Contrast these people with the NHS workers who spend long shifts caring for other people only to find there are no fresh vegetables or fruit when the drop in to the supermarket on their way home.
Day 3 – 26th March
The number of daily deaths in Britain from Coronvirus yesterday was lower that in previous days, but of course that's of no consolation to the bereaved families. There's been talk of us reaching the peak in 2-3 weeks, which seems a long way off given that this is only day 3. Even having reached its peak there's still the decline before it's safe to relax some of the lockdown rules, so we could be holed up for 2-3 months.
On a more positive note, yesterday's call for 250,00 volunteers to help the NHS has generated over 405,000 applicants. They will be asked to collect and deliver patients and medicines, or simply work from home where they can call anyone in need of a friendly human voice.
Environmental Impact of Lockdown
Most of Britain has awoken to another day of sun and clear blue skies. The environmental benefits of the lack of human activity has been noticed by many, including astronauts in space and individuals enjoying the birdsong and skies devoid of aircraft. About a week ago it was noted that the canals of Venice were running clean again and a dolphin was spotted exploring areas usually out of bounds due to pollution.
There's no doubt that Mother Nature quickly recovers when humans stop doing what they do with current technology. It's a reminder of type of world we could have not devoid or aircraft and personal transport but different types of aircraft and personal transport, and we're already working towards that goal.
A tweet from an account calling itself 'Extinction Rebellion East Midlands' seemed to reveal the true agenda of the XR movement. It's long been suspected that the XR goal was not so much saving the planet as defeating (or smashing) capitalism. It has been accused of being a quasi-religious death cult.
Other XR were quick to distance themselves from this tweet claiming that it is not only contrary to their philosophy but also that the twitter account that posted it is a fake XR account designed to discredit the XR movement.
However, the 5,000+ replies to the tweet include many who agree with the idea that capitalism is the disease and socialism is the answer. It remains to be seen whether the Extinction Rebellion movement does in fact include some eco-fascists amont its supporters.
Coronavirus Crisis Updates
Prince Charles has tested positive for Covid 19 and is self-isolating. Spain's death toll continues to rise at an alarming rate and has overtaking China's. The Chancellor has announced measures to support the self-employed during lockdown. Home testing kits are in production and it is said that we'll be able to order them within weeks.
So far the novelty of lockdown hasn't worn off. I can't help but wonder if a few more days of this and a change in the weather will start to take its toll on the mental health of many. A major reassurance that people cling to is the fact that they can still go out and buy plenty of food. Any disruption to supply would quickly fan the flames of civil unrest.
Some experts have warned that the virus can last for hours on packaging i.e. cardboard and plastic, so that delivery that arrives at your door may include more than you ordered. It's difficult to know whether to adopt the attitude that we have to be compulsive about cleaning everything, with the inevitable paranoia that would generate, or simply take the obvious precautions without being fastidious.
Day 4 – 27th March
Tuesday's request for volunteers to help the NHS has generated such a huge response that the original goal of 250,000 has been trebled to 750,000 in light of the fact that over 660,000 people have signed up to the scheme.
Yesterday evening at 8pm millions stood on their doorsteps and balconies to 'clap of the NHS' to show their gratitude and support for all the selfless efforts of the frontline staff.
America's infection total has now exceeded that of China with over 85,000 people testing positive for the Corona virus so far. The concern is that the Trump administration is doing too little too late and that they've lost the opportunity to grab control of the situation in a way that seems to have occurred in the UK and elsewhere.
Support for the Self Employed
Yesterday, the Chancellor Rishi Sunak announced measures to help the UK's 5 million self employed workers. While it was reassuring for many others are dismayed to learn the the HMRC won't be ready to give financial aid until June, and even the Chancellor admitted that it won't help everyone but it's the best that could be arranged in such a short space of time.
The amount of money each self employed person receives will be based on their annual tax return, so as some wag on Twitter pointed out, those who did so many jobs for cash and failed to declare their true earnings will now reap the bitter harvest of a much lower bailout than they could have had, if they'd only shown a bit more integrity in their financial affairs.
Sweden
There's so much news about the pandemic that it's difficult to keep track of what's going on. Obviously it's best not to try to hard. Each country is coping in its own way.
Sweden's schools are still open. The shops and parks are packed with people enjoying the spring sunshine. Only gatherings of larger than 500 people have been banned.
The number of infections and daily deaths in Sweden is comparatively low but some are alarmed at the government's approach which is far less restrictive that other Scandinavian countries and indeed the rest of the countries in the world where the virus has taken hold.
Recession
Despite all the financial support offered by the UK government the likelihood is that we'll emerge from this crisis into a domestic and global recession. Unemployment is already increasing rapidly as businesses have simply stopped virtually overnight. The grants supplied by the government will no doubt empty the Treasury's coffers.
However, there is a possibility that the country will at least spring out of the crisis with renewed vigour, chomping at the bit to get on with projects, relaunch businesses, or start new ones.
Day 5 – 28th March
Mercifully, the sun is still shining this morning on the first Saturday of lockdown, but the news remains grim. The Prime Minister, Boris Johnson, has tested positive for the virus, as has the Health Secretary Matt Hancock and the CMO (Chief Medical Officer) Chris Whitty. The PM is now in isolation in No.10.
After Thursday's small rise in the number of dead in the UK it rose sharply again yesterday with over 181 deaths in a single day. There is a theory that it will peak on or around April 5th but only if we continue to abide by the rules of lockdown. Some have suggested that the 6 feet social distancing measure is too low and should be increased to up to 18 feet.
That would make for an interesting shopping experience. Yesterday I went to the supermarket and there was a queue of about 30 people waiting to enter. We kept 6 feet apart in the queue but it's impossible to remain that far apart at all times. Thankfully the queue went down quite quickly and I was soon inside. There was more food available than two days ago and we now have ample provisions for a week at least.
Briton's abroad are finding increasingly difficult to get home. India is enforcing lockdown and the Indian police don't take the softly-softly approach. There are plenty of clips of them beating the legs and backs or transgressors with their long sticks.
Contradictions
There's a lot of confusion and contradiction about lockdown in the UK. In some areas the Police are enforcing it with zeal, and some might say rightly so, yet there is ample evidence that others are flouting the rules, or should be allowed exemption for reasons that seem just plain common sense. Anyone who is responsible for any livestock and other non-domesticated animals in any capacity, for example.
A Police officer was filmed accusing a shopkeeper of criminal damage for simply drawing on a pavement in an effort to remind his customers of the need for social distancing while they queued outside. Traffic wardens have still been handing out fines to motorists collecting medicines from pharmacies.
Airlines
Virgin Atlantic have asked the UK government for financial help to keep it afloat, and this has generated criticism from those who think Sir Richard Bransion should use some of his own wealth first.
EasyJet have paid out £174 million in dividends to shareholders including £60 million to the already very wealthy founder of the airline, Sir Stelios Haji-Ioannou, and yet they too are asking for help from the taxpayer.
Bournemouth Airport has become a parking lot of unused British Airways 737s.
After the initial feeling of 'we're all in this together' or at least silence from the Left in the UK, they are starting to criticise the government's handling of the situation, picking holes here and there, but we can thank heaven two small mercies; a week of sunshine, and the fact the Jeremy Corbyn is not our PM.
Day 6 – 29th March
Yesterday's death toll was the worst single day yet – 260, so the total for the UK has now exceeded 1,000 deaths. It's rising as predicted though of course only a fraction of the 10,000+ in Italy and nearly 6,000 in Spain. The suggested date for the peak has moved back, from 5th April to 12th, but of course like all these estimates in a constantly changing scenario is just a best guess.
The Prime Minister, Boris Johnson is sending a letter to every household in the UK urging us to stick to the lockdown rules. The letter makes it quite clear that things are likely to get worse before they get better but I think we've all worked that out for ourselves by now, just by watching what has happened in Italy, Spain, and China.
Boris has a 74% approval rating for the way he and the government have handled the crisis so far.
An author in Rome has written a letter to the UK describing what she thinks is ahead for us. It seems we're going to be doing a lot of eating.
The blame game has started and there's inevitably a lot of focus on China. What did they know and when? What did they hide from the rest of the world? What is the true death toll? When are they going to ban those awful wet meat markets and stop eating bats, dogs, cats, civets, pangolins and all manner of wild and endangered animals?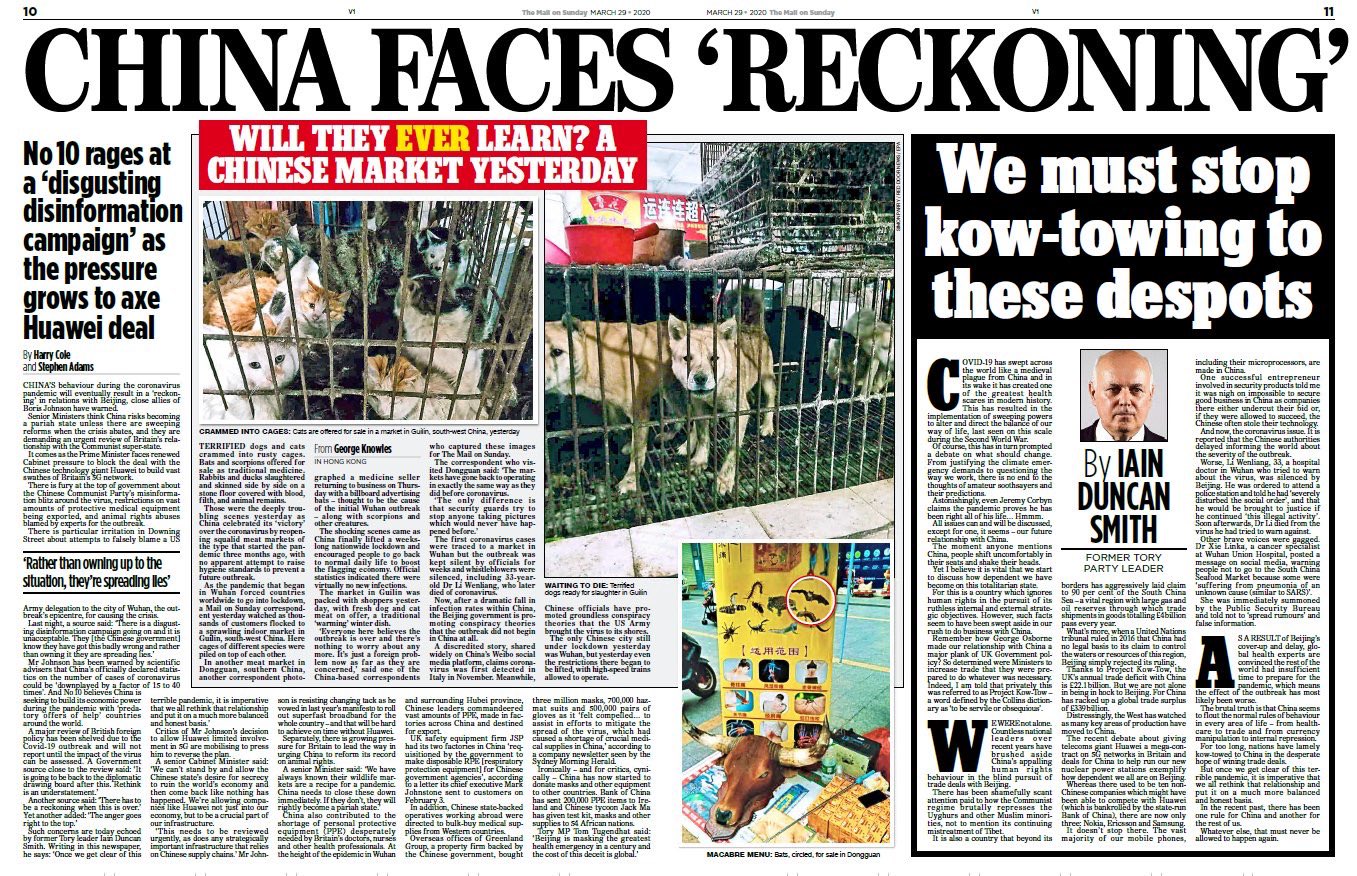 There is talk of a much stricter lockdown as we approach the second week. It's being flouted all over the place, particularly in the cities. The Nightingale Hospitals in London, Birimingham, and Manchester are obviously designed to cope with the large population centres in which people have ignored the social distancing rules or to which they've simply been unable to adhere because of packed public transport. Mosques are now closed by yesterday someone filmed worshippers shoulder to shoulder in a tennis court, carrying out their daily prayers.
The European Union is coming in for a lot of criticism, particularly from Italy. The EU is continuing to make demands of Italy and not cutting the country any slack. Some are speculating that Italy will be the next to leave.
Every day in this crisis we are reminded of the selfless service of some who humble us with their dedication, and the humourless and vitriolic sentiments of others.
Day 7 – 30th March
Viral Load
Day 8 – 31st March
Britain has completed its first week in lock down (is it lock down or lockdown?) A week ago the estimate for the peak in the infection rate and date toll was April 5th, then it was April 17th, and now it's probably later but there's no certainty.
We've grown used to the daily figures but now we're being told that the actual death toll may be much higher due to a lag in the recording and reporting of the number of deaths, plus the fact that the figures only reflect those who have died in hospital. 'Experts' have warned that Britain may be experiencing a similar graph to that of Italy which has recorded deaths in excess of 10,000. As of this morning the UK total is 1,415 but that's expected to rise sharply tomorrow.
Police Powers
The police are being criticised, even by their own peers, for over zealous prosecution of their new powers. According a The Daily Telegraph exclusive the Assistant Commissioner Neil Basu said officers must preserve "the trust and confidence of the public" and maintain the tradition of "policing by consent" amid complaints about the "overzealous" enforcement of social distancing regulations.
Once again common sense is not so common among some officers, nor members of the public. Why on earth people can't drive to remote areas, to fields, woods, beauty spots etc to walk is beyond me when a walk that begins outside one's front door can often result in endless manoeuvers required to maintain the social distancing minimums.
It must be particuarly bad for anyone living in small flats with no garden. It's an emotional and mental pressure cooker. They should re-open London's parks and simply break up groups of four or more. As the letter from Italy pointed out yesterday, domestic violence will increase, and already has according to the tabloids.
Britons Abroad
Finally, the Foreign Office is chartering flights to bring home thousands of Britons trapped abroad. They've been a bit slow with this task, given the fact that there are hundreds of aircraft parked up and unused around the UK. Lockdown is bad enough if you're at home but to be stuck in a foreign hotel room with little food, no support, and with some people showing open hostility toward you when you venture out for supplies must be dreadful. Other countries have managed to get their citizens home but Britain has lagged behind on this task.
Piers 'love him or hate him' Morgan has written an article published in The Daily Mail listing twenty celebrities he has branded covidiots for their display of arcissism and insensitivity in social media. He is right of course. If you post a video or image of your luxury house, yacht, or indoor swimming pool bemoaning the fact that 'this is home for duration of lockdown' then you deserve all the scorn you receive.
I know we should think positive thoughts and maintain a healthy outlook in a time of crisis but it's car crash journalism – you can't help but glance to see what's going on. I doubt Sam Smith or Madonna will be queueing at Sainsbury's any time soon.
Day 9 -1st April
We're now in the phase during which the number of daily deaths each is likely to rise sharply before it reaches its peak. Yesterday's total was the worst yet, 381 in one day, and the true figure may actually be worse because of the way statistics have been collected.
Nurseries and garden centres are losing out badly with millions of plants and trees about to go to waste. Many businesses will close.
Have we overreacted?
People are asking if the lockdown is too draconian and whether the reaction and measures introduced are an overreaction. Even if they are you can imagine the outrcry and criticism of the government if they had done less. Sweden has sdopted a more relaxed approach but maybe they'll come to regret that decision in the weeks ahead.
Covid 19 is often compared to the 'flu, with people saying 'more people die of the 'flu each year and we don't do all this', but in fact the infection rate, the need for hospitalisation, and the fatality percentage of Covid 19 are all far higher
One of the many worries is that if at least some people don't get back to work soon the economy is going to be so damaged that it will take over a decade to recover. Imagine having to wait ten years just to restore our country to the point it was at in February 2020.
Heroes and Covidiots
The British Army has excelled itself (pun intended) by preparing the Nightingale Hospital in the Excel exhibition centre in Docklands in record time. It hasn't gone unnoticed that the heroes of the Coronavirus crisis are those low paid key workers we all take for granted at any other time.
Meanwhile, celebrities continue to make fools of themeselves by posting updates on social media of how they're coping with lockdown, confined to their luxurious accommodation. If there's one thing this crisis has reminded us of it's the shallow, narcissistic world of celebrities who are only famous for being famous.
USA & India
In the USA, Trump has warned that 100,000 Americans will die in 'very, very painful few weeks', but this could rise to 240,000 with over 2,200 dying every day for a fortnight, hospitals looking like war zones, and thousands more dying well into June.
Lockdown is in force in India but it has a massive population including millions of migrant workers. When lockdown was announced or seemed imminent these workers packed into trains and headed home to their villages. It seems social distancing in such crowded cities and transport infrastructure is impossible.
Day 10 – 2nd April
Yesterday's total dead was the worst yet by far, 563. It's on track with the predictions and we've probably got another two weeks before the peak. The stories in the media are beginning to turn to blame, accusations of missed opportunities, and criticism of the UK government's handling of the crisis . Headlines that a week or so ago were praising the Prime Minister and the Chancellor's leadership are now asking where did it all go wrong. People are asking the government to explain its lockdown and testing strategies.
British Airways is to furlough 36,000 workers today; pilots, cabin crew, engineers, and office workers. Virgin Atlantic, it is said, is a few days away from total collapse. The travel company TUI has laid of 11,000 staff. Thousands of airliners are parked in hub and regional airfields around the country. Extinction Rebellion must be loving this.
The indications are that people are getting restless. There's been a rise in the number of personal journeys by road. It certainly seems that way locally, but a visit to the supermarket leaves you in no doubt that lockdown is still in force. Fortunately for me the queues are short and the waiting time has not been long so far. The shelves are replenished but there are still shortages of pasta, rice, flour, eggs, and of course hand sanitizers and anti bacterial wipes.
Some supermarkets are relaxing their three of each item only limit butin Sainsbury's I couldn't by half a case of Malbec. However, I could have bought three Malbec and three whites. Go figure.
The cigarette gians British American Tobacco (BAT) says it is weeks away from perfecting a Covid-19 vaccine made from the tobacco plant.
Stay Safe!
I confess to becoming tired and cynical of all the positivity. I know it's wrong. Perhaps I'm just depressed. People are saying that this is the perfect time to exercise, meditate, to reconnect with others using cyberspace, to take stock of your life and society, and to create a new and better world when this is all over.
Maybe, but all the news is grim. Of course we don't have to pay attention to the news but that feels like sticking one's head in the sand. This is reality. Millions of people are losing or have lost their livelihood, tens of thousands are bereaved, and economies are being trashed. A million people have registered for universal credit in the UK. People who had been working hard, saving money, and making sacrifices have seen all their efforts laid to waste.
Hundreds of thousands of furloughed workers will have to be supported with funds from the Treasury which will see its coffers emptied again in the months ahead. Creative projects designed to make the world a better place are halted. Families in lockdown are in a pressure cooker environment so domestic violence is increasing. The mental and emotional price people are paying is incalculable. How many more suicides will there be in the months ahead?
When this is all over left and right will still be arguing, chips will still be on shoulders, and the same problems we had in 2019 will still be there waiting for us to deal with, except in 2021 we'll have less money to spend on improvements.
In the meantime, helping someone else is often a way of lifting one's mood. Make a donation to a charity that helps those less fortunate than oneself, for example.
Day 11 – 3rd April
The two subjects dominating most of the debate at the moment are testing and the impact of lockdown on the economy. Lockdown slows and lowers the rate of infection and this buys time during which the NHS can prepare extra capacity to deal with the volume of patients that will require treatment in the weeks ahead. If lockdown didn't exist or were to be relaxed too soon then the infection rate would rise again and the NHS would be overwhelmed.
The 4,000 bed NHS Nightingale hospital in London's ExCel Centre in Docklands will be ready soon. Two more are being prepared in Birmingham's National Exhibition Centre and Manchester's Central Complex. Yesterday it was announced that another two would be prepared in Bristol (1,000 beds) and Harrogate (500 beds).
However, there are concerns that inexperienced staff in unfamiliar surroundings, problems with supply, and the ratio of staff to patients could all combine to be a contributory factor in a higher mortality rate.
The dismal daily death toll announced each day is fast becoming normalised to those of use who have no connection to anyone who has died. the UK's total now stands at 2,921 after another 500+ yesterday. Worldwide, the number of infections has passed the 1 million mark. As bad as it is here it's still a fraction of what Spain and Italy have gone through, and the prospects for the USA are very gloomy.
Coronavirus Testing
The target is to achieve 100,000 tests per day in the UK by the end of April. This is an ambitious target since as of the end of March only 8,000 people are being tested each day at all kinds of locations, from theme parks to tennis courts. Obviously those chosen for tests are prioritised according to their role, with front line NHS staff being top of the list, but they need to measure the spread of infection within the population, hence the need for widespread testing.
The two test types are; one to determine whether or not you're a carrier (antigen), and one to see if you've had the virus and have recovered (antibody), whether you sailed through with no symptoms or reached the threshold of death's door before returning to full health.
Economy
The novelty of the situation and the immediate impact of last week has long gone and the concern among business owners and employees is now turning to frustration and anger. Furloughed workers have been promised 80% of their salary up to a limit of £2,500 per month and in principle their employee rights remain unchanged, but they may have to wait to be paid while HMRC process all the thousands of applications from business owners.
Many self employed people will fall through the safety net and no amount of small business grants, rate relief, or deferred VAT payments will save a lot of the bricks and mortar businesses who do not trade online.
Meanwhile, the premier league football club Tottenham Hotspur (among others) furloughed hundreds of its low paid, non-playing staff but said its main players would continue to be paid their massive weekly pay. These instances of those at the top of the pyramid continuing to draw large salaries and dividends while those at the bottom are furloughed or made redundant are sowing the seeds that may become a bitter harvest in the years to come.
Day 12 – 4th April
The government has warned that they may have to introduce stricter measures if people don't adhere to the guidelines. In the words of Matt Hancock yesterday, "These are not requests. They are instructions."
The graph curve is on its steep ascent now and the number of deaths reached 684 yesterday. Warm weather is predicted this weekend and there will a strong pull to the outdoors, the national parks, the beaches, and the city parks. Much of the progress made so far could be undone if people can't show some restraint.
Easter is next weekend and if the weather is warm and welcoming then that will be an even bigger pull. The usual family gatherings, parties, barbeques, and church services of Easter cannot be go ahead but the restrictions are too much for many.
People are watching and waiting to see Sweden's approach to the crisis has any advantages that were missed elsewhere.
The former Swedish state epidemiologist, Prof Emeritus Johan Giesecke, stated recently in an article for the daily newspaper Svenska Dagbladet: "The lack of reliable knowledge explains why countries choose to do things differently: nobody knows what really works, and they choose measures either on the basis of shaky data or for political reasons.
"All models require that you enter numeric values for different parameters – values that we often miss and must estimate or guess."
The Prime Minister, Boris Johnson, has been unwell with the virus so he has been absent from the daily briefings all week but he managed to provide a couple of recorded messages. Some people remarked on how tired he looked. Perhaps after a few more days he'll have bounced back.
The long days of lockdown
The media is full of guides on how to spend time, divide days, learn a new skill, and all manner of helpful advice. Someone tweeted yesterday that if you don't emerge from lockdown without at least one new skill then you lack any self discipline altogether. They may be right, but the overriding feeling is one of the world on pause. Staring into space and being still seems to be the natural reaction for a lot of the time we have to kill.
All over the world people are finding imaginative ways in which to use video meetings (although Zoom appears to have some security weaknesses so it's been banned from some businesses). There are family gatherings, choirs, orchestras, and other forms of interaction.
The Queen is going to address the nation tomorrow at 8pm.
Day 13 – 5th April
As dawn breaks on day 13 the sky is clear and it looks like it's going to be another lovely spring day. Yesterday, the sky here in southern England was a rich blue and cloudless for most of the afternoon. Consequently, the parks and the beaches filled with people. The lockdown rules encourage us to take exercise in the fresh air once a day. This is particularly important for those living in flats and high-rise buildings, but people are arguing about whether or not anyone should be allowed to stop and sunbathe.
It's obviously not acceptable to add the risk by congregating in groups, mixing households – that would risk increasing infection rates, but if you're out for your daily walk and stop to enjoy ten minutes of sunshine it seems a bit draconian to berate people. What are they going to do, adopt the Indian Police practice of whiping people with bamboo sticks?
On the other hand, another nurse, having completed a long and exhausting shift, has recorded an emotional appeal for people to stay at home. The emotion generated by such videos inflames others into condeming sunbathers even more. It's a difficult choice given that fresh air, exercise, and sunshine are essential for physical and mental health, and therefore strengthen the immune system. Peole just have to stick to the family groups only rule.
Politics & People
Sir Keith Starmer has become the new leader of the Labour Party. Thank goodness the Jeremy Corbyn days are over. Things are bad but imagine if JC had been in No.10 trying to handle this crisis. They would have been arguing about diversity quotas among medical staff.
Marianne Faithfull is ill with the virus, as has Boris Johnson's pregnant fiancee Carrie Symonds.
The media continue to publish stories (if you can call them that) about the drop in pollution levels. They remind me of that old Tommy Cooper joke;
Tommy: So I said to the doctor, I said, "Doc, it hurts when I do this." And the doctor said,"Well don't do that then."

If human activity stops, pollution drops, so you have three choices:
Remove humans altogether and leave Earth to the rest of the species. There are those who think we should stop having children and go extinct.
Stop all human activiity that causes pollution and go back to living in pre Industrial Revolution conditions. Good luck with feeding 7+ billion people and coping without sophisticated and advanced hospitals.
Develop less polluting ways of doing things. Sounds like a good plan.
If you opt for No.3 then you will have to continue with the current industry and technology (with its pollution) until you've developed cleaner and more sustainable technology. That's what we were doing until the Coronavirus showed up and pressed the pause button.
Day 14 – 6th April
As we come to the end of the second week in lockdown, the Prime Minister has spent the night in hospital as a precaution due to the fact the symptoms have persisted for two weeks. The Queen gave her address to the nation yesterday evening at 8pm and it was well received by the vast majority of people. The Marquess of Bath has died at the age of 87, leaving 75 wifelets to morn.
The roads were noticeably even quieter yesterday after the warning that lockdown rules were instructions not requests, and if they are ignored by too many people then stricter measures would be introduced. Scotland's Chief Medical Officer has resigned after being caught ignoring her own lockdown advice and visiting her second home. Italy may have have peaked at nearly 16,000 deaths and they're starting to prepare for the relaxation of lockdown rules.
Statistics
There persists a sense of unease with regard to the way the statisticss are being compiled and the real risk of the coronavirus. Many are questioning the fact that the death toll includes those who died with Covid-19 as well as those who died of Covid-19. Have we been over cautious? Have we ruined our economy unnecessarily?
When this began it was predicted that the surge in the UK would result in 5,700 deaths by 5th April. Yesterday's total was 4,934 and assuming today's tally will be another 6-700 then it will fall a little short of the estimate, but a good projection nonetheless. However, the talk is of the curve continuing to rise, so right figure but not the peak.
Conspiracy Theories
The conspiracy theorists have gone into overdrive over the coronavirus pandemic. Apparently it's a cover for the rollout of 5G or the implication of martial law and the removal of all our civil liberties. Soldiers from what is thought to be the Scots Guards arrived on the Isle of Wight, home of David Icke, to help build more wards or create a field hospital. The mere sight of soldiers on the streets is held up as proof that we're about to be locked down permanently.
Conspiracy theorists would do a better job of convincing others if they could produce a shred of evidence instead of simply posting links to news items with the comment,"Wake up, people!".
Trending conspiracy theories are:
The Coronavirus is a bioweapon created by China and unleashed on the West for the purpose of ruining our economies and enabling China to become the dominant economic and military power in the world.
The Coronavirus was isn't real or at least it's been greatly exaggerated for the purpose of keeping us indoors during lockdown while the 5G network is rolled out. The 5G network will be used to control our thoughts and moods.
The coronavirus pandemic is being used to implement the removal of civil liberties including the implementation of martial law These rights won't restored when this is all over and we'll emerge into a new authoritarian state.
Positivity
The urge to stay safe and do something positive with your time continues to inspire many and annoy others.
I suspect the people giving us the benefit of their advice don't live in a small flat in a tower block with two small children. It's easy to be positive and set yourself the goal of learning how to make bread, learn a language, or start another business when you have money in the bank, and physical, mental, and emotional stability.
Trying to do something positive during lockdown and emerge better from it depends on what was going on in your life when it started. For some it will be a success if they manage to get through it without a nervous breakdown, murder, or suicide.
Day 15 – 7th April
Yesterday evening we went to be with the news that our Prime Minister, Boris Johnson had been transferred to an intensive care unit as a precautionary measure due to the fact that he was having difficulty breathing. He remains conscious for the time being but has asked the Foreign Secretary Dominic Raab to deputise where necessary.
The nation is anxious and upset that its larger than life, charismatic leader is now deeper into the danger zone. We don't even want to think of the consequences of the worst case scenarios. How quickly things can change.
Before the news of Boris's worsening condition yesterday gave us reason to hope that the end of this crisis might be in sight. Austria and Germany announced dates later this month when they plan to relax their lockdowns. Spain and Italy appear to have peaked. The UK number of deaths in the previous day was less than the previous two days. Had we reached the peak?
Two weeks ago this image was circulated online. You can see that the estimate was for 5,700 dead by April 5th. By yesterday, 6th April, the total had reached 5,373, so the estimate was in the ballpark.
It could be that we peak during Easter weekend in a few days time. Instead of a busy weekend of outings, family gatherings, and busy beauty spots we'll still all be confined to our homes like every other day during the past two weeks. The loss of revenue for thousands of businesses of all types will be enormous.
The EU and the Coronavirus pandemic
One thing this crisis has reminded us of is the value of leaders, nations, and borders. There's nothing like a coronavirus pandemic to prove what the free movement of people has its disadvantages, to say the least.
It has also produced examples of how nation states (understandably) look after their own during a crisis. It's easy, during soft times, to talk of solidarity between nations but when the chips are down we all become much more insular.
For example, 20% of all surgeries carried out in the EU use PPE (Personal Protective Equipment) imported by the Swedish company Mölnlycke from Asia. Their main warehouse is in Lyon and they had earmarked a million masks each for Italy, Spain, and France, but the entire stock was confiscated by France. The French eventually relented but for now the shipments are no longer being sent to the Lyon warehouse.
French veteran policitician Jacques Delors (94), who played an important role in the formation of the EU, has suggested that the pandemic has put the union in 'mortal danger' citing the lack of solidarity between member states. He is not alone in thinking this and similar thoughts have been expressed by other politicians and analysts.
As much as a crisis like this can unite communities and the citizens of a country behind the leadership of the day, temporarily leaving aside political differences, it doesn't follow that a federation of states is united. We're each looking after our own.
Day 16 – 8th April
The Prime Minister, Boris Johnson remains in the ICU at St Thomas's hospital in London. He is breathing unaided and on the one hand it doesn't sound as serious as first thought but some have suggested he won't be fully recovered for many weeks. This has stirred up the press with talk of power vaccuums and lack of leadership.
The UK death toll has reached 6,159 after the worst day so far yesterday. The revised forecast for the peak is now in mid April, so if they're right it's going to be very rough or the next week or more.
President Trump has launched a scathing attack on the WHO (that's the World Health Organisation, not The Who, the British rock band, although they're track 'Won't Get Fooled Again' seems appropriate at this time).
"They called it wrong, they called it wrong, they missed the call," Trump said during Tuesday's White House press briefing, before going on to imply that they had withheld information.
The WHO have come in for a lot of criticism and have been accused of being China's lapdog. Critics have pointed to all kinds of evidence but none more so than a bizarre interview in which a WHO senior adviser Dr. Bruce Aylward, an aide to WHO director-general Dr.Tedros Adhanom, hung up and then simply refused to acknowledge Taiwan when reconnected. It was so obvious that he was simply ignoring the question and only wanted to talk about China's seemingly exemplary role.
The propaganda machines are in full swing at the moment. Earlier this week it was reported that China had flooded Facebook with ads praising China's reaction to the Coronvirus outbreak and criticism President Trump for his alleged mistakes. It seems that Trump's press briefing yesterday was the USA returning fire in response to these slurs.
China dubbed its reaction to the outbreak as "The People's War", which is oldest trick in the book. Call it the People's this or the People's that and it doesn't sound like a clumsy reaction by an authoritarian regime which punishes 900 people for all kinds of transgressions, even rallying people to provide face masks (which makes the regime look incompetent). Note the times a similar trick has been used in the West; a people's vote, the people's choice etc is often the choice of a minority.
The EU's response to Coronovirus
Meanwhile, the EU is coming in for a lot of flak for its handling of the crisis. The European Union's chief scientist at the head of scientific research Mauro Ferrari has quit, citing the "uncoordinated" response of the EU to the Covid-19 pandemic. Even the EU Commissioner for Crisis Management Janez Lenarčič publicly stated that their response was "inadequate".
Speaking of the crisis in Italy he said,"initially, there was an inadequate response from Member States for help." Although he later added, "the situation has improved since and this (the lack of response) is now not the case."
But this may be once again of too little, too late for some member states. According to this article in The Guardian the response by the EU, or the lack of it, may be more damaging to the federation than Brexit. A 16 hour teleconference involving EU finance ministers about how to financially support member states ended without agreement. It will require further negotiations to break the deadlock.
Once this is all over and each country has the time to take stock of how its own government reacted, and what help, if any, came from the EU and neighbouring member states, it may just be that we see a rise in national identity and the value of strong borders under their control.
The lessons of lockdown are likely to be learnt and remembered by the current generation with a similar impact to that of World War II on its children and young adults. They may come to realise the value of family, friends, neighbours, communities, and a country united behind a common cause.
Some may argue that it only strengthens the idea of a federation of countries (like the EU) but perhaps this sense of unity will dissipate at the borders. Countries will empathiseand support each other but only after they've ensured their own populations have the supplies and equipment they need.
A pandemic is a powerful reminder of the value of strong borders under regional control, allowing a country to control who can enter and who can leave.
Day 17 – 9th April
Boris Johnson is better, that's the good news. The bad news is that over 900 people died yesterday making it the worse day yet, so it seems the predictions may be correct in that we could see 1,000 deaths a day until the peak.
Consquently, there's no end to lockdown in sight yet. There's talk of relaxing lockdown when it drops to 50 deaths per day. When it began we were promised a review after three weeks but with that deadline approaching it seems almost certain that it will be extended well into May. My guess when this all started was that we wouldn't be back to near normal until at least June.
Tesco's boss has blamed middle class people in southern England for stockpiling, with Londoner's storing the most goods. The fact that this grocery giant is able to determine the income level and living standards of their customers only goes to show how much data we freely hand over to anyone who asks for it. In case you're wondering, we bought a little extra than normal in the first week but quickly reverted to a normal weekly shop.
The distress of Covid-19
Those who have been through the Covid-19 illness and survived are pointing out that it takes weeks to fully recover. One fit youngish man who used to cycle thirty miles per day is back at home after a stay in hospital and still gets breathless going upstairs.
Others are telling distressing tales of what they witness in hospital. One man was on a ward witnessing the final days and hours of a man in a bed opposite clearly in great distress, calling out for his wife and children. They were allowed one visit, covered in protective clothing, after which he lingered on for a few days, calling out for them again. The nurses said they could no nothing for him except ease is ending. The witness watched and listened as he faded away, calling for his family until he finally took his last, laboured breath.
The simple fact of the matter is that there is, as yet, no cure. If you fall ill your chances of survival depend on several factors; viral load, age, health, size, underlying medical conditions etc. Patients have to fight and win or fight and die. It's that simple. All the medical staff can do is lend as much support as possible but they can't help everyone so they have to make the worst kinds of decisions prioritising patients.
Karma for Haters
When Boris fell ill there were some very nasty comments posted online in celebration of the fact and some wishing him a long and painful end. One restaurant owner from Bristol posted a vile, foul mouthed comment which provoked a huge backlash. So big was the reaction that he recanted but by then it was too late. He admits he was wrong and realises he has probably lost his own business due to his own stupidity.
Many of the people posting such comments have social media bios that include slogans such as 'be kind', 'choose love over hate', 'fairness and justice for all' etc. They are often the ones posting about how they want to create a better world and yet have zero tolerance of Tories or anyone else with whom they disagree.
They set themselves up as the bastions of integrity and moral standards but in a crisis, with the heat under the pot, the scum rises to the surface where it can be collected and discarded.
Be careful what you say and think. We really do create our own reality.
Day 18 – 10th April
Boris is out of intensive care – hurray! He's making good progress. However, this good news is counterbalance by more stories from the wards and from personal accounts of relatives who have died. Yesterday the total number of deaths in the UK was just under 8,000. It's still much lower than Spain, France, and Italy, and the USA's total is rising the fastest, but it's 8,000 bereaved families, and 8,000 funerals during which social distancing rules must be maintained.
Today is Good Friday and the weather continues to be warm and pleasant. This Easter weekend is going to be the toughest test yet of our self discipline. Will the roads remain quiet and clear or will some risk it and venture out to visit the countryside, friends, or families? The police in the north west have had to break up parties and barbequeues. It seems there are still plenty of people unwilling to comply with the lockdown restrictions.
Social and the mainstream media continue with the blame game. Naturally, the Tories come in for a lot of the flak. Even if people say 'UK' we know what they mean. While they're all shouting,"It's your fault for not funding the NHS!" they ignore the series of events that got us to this point i.e. where the virus came from.
After yesterday's story of the restaurant owner who had his comeuppance, two Labour councillors are now regretting their comments about Boris. With Sir Keir Starmer now in charge of the Labour Party things are beginning to change. Some are saying he's already done more in a couple of weeks to remove the rot than was done in months of prevarication and denial under Jeremy Corbyn.
What happened at the P4 lab in Wuhan?
On April 7th a 55 minute documentary video on YouTube was published reviewing the origins of the virus. It includes interviews from virologists, microbiologists, doctors, and former members of intelligence agencies.
There is a evidence that the Covid-19 virus was manufactured by alterting a type that already existed. The virus was in the P4 lab in Wuhan and it subsequently escaped through incompetence or was deliberately released. The Chinese authorities reacted by a combination of coverups and other actions designed to capitalise on the problem, turning it to their advantage.
As we know, Chinese whistleblowers tried to alert the world to the danger. When Dr Li Wenliang, an ophthalmologist at the Wuhan Central Hospital, expressed his concerns and alarm the reaction of the Chinese was swift.
Four days later he was summoned to the Public Security Bureau where he was told to sign a letter. In the letter he was accused of "making false comments" that had "severely disturbed the social order".

https://www.bbc.co.uk/news/world-asia-china-51403795
The Chinese people have suffered but the Chinese Communist Party took swift action and initiated a propaganda campaign to evade responsibility and to shift any blame concerning the unfolding disaster onto the West. They've flooded social media with ads blaming the West, and Trump in particular, for delays that lead to more deaths.
Watch this video and you'll see what I mean. The World Health Organisation also comes in for strong criticism.
Day 19 – 11th April
It's Easter Saturday and the media reports that the vast majority of people are obeying the lockdown restrictions. Nevertheless, the effect of the infection spread from recent weeks has resulted in 980 deaths yesterday, breaking the record yet again. The USA have become the first country to experience 2,000 deaths in a single day.
It's being suggested that some lockdown restrictions may have to stay in place indefinetly. They could, for example, allow schools to go back first, followed by the non essential shops and social gatherings, but also encourage the home working to continue and the elderly to remain indoors for longer. Such a scheme would have to be advisory only as it was be almost impossible to police. Grandparents might have to take children to school and collect them, for example.
After nearly three weeks of national lockdown Groundhog Day really has become the norm for many. Lucky ones, myself included, who work from home a lot anyway, have a garden, and want for little, just have to bide our time. Each dawn has been tranquil, with still air and birdsong.
For NHS and essential or key workers it's day after day of long shifts and risks to their own health. It's been pointed out many times during lockdown that the people we take for granted the rest of the time are the ones we come to rely on in situations like this.
Surely this is one of the most important lessons of lockdown i.e. that nurses and other medical staff should have a salary befitting their dedication and responsibility. They should pay them the £40-50,000 per year that they're currently offering 'Diversity Officers' and other non-essential midldle management staff in the NHS.
Instead of banging the same old drum and bashing the Tories for underfunding the NHS they should give this huge organisation an enema, an audit, and thorough restructuring so that it becomes as efficient as possible in the way it spends the billions poured into it.
But I expect when Parliament is back in session they'll be asking the same old questions during PMQs. The opposition will be firing questions at Matt Hancock as if he's personally to blame for any shortages, not the procurement managers in the NHS who failed to prepare for this eventuality.
Day 20 – 12th April
Easter Sunday and the nom du jour is PPE and the shortage of it. Medical staff are complaining of shorages and the government is trying to source supplies (from China, of all places). It's not every hospital that has run out but there is obviously a break in the supply chain and it must be very stressful for the staff. To date, 21 medical staff have died from Covid-19.
The Home Secretary, Priti Patel, chaired yesterday's press briefing during which we were told that yesterday's death toll was over 900 again. She also announced that crime had fallen overall by 21% but the domestic vioence and the activities of online paedophiles had increased.
There were several questions from the handful of assembled journalists on video calls that were designed to goad and criticise the government for its handling of the pandemic. Priti Patel's name began to trend on Twitter as the leftie keyboard warriors launched their attack.

You have to wonder at this mentality at times. If a meteor had streaked across the skies of England and flattened Maccesfield they would be blaming the Tories for not being prepared for such an event, even claiming they'd planned it all along or didn't care about the devastation that resulted from the calamity.
Compared to other countries Britain is coping as best it can, given the circumstances. No doubt the current government's response will become the political football of the next few years and the truth might get hidden under anti Tory spin and rhetoric but all that can be left aside for months yet.
For now, contrary to what some are claiming, the government's approval rating is better than ever at 60+% and voting intentions of 55% (Con) and 29% (Lab). They say it's the highest it's been for the Tories for over 40 years.
A senior research scientist at MIT has suggested there may be a link between Glyphosate and Covid-19. She suggestst that those with a higher amount of Glyphosate in their bodies are more susceptible to the illness. Glyphosate is found in pesticides and pollution so the more both you've been exposed to the higher the risk you'll die of the virus.
If this is true then we really are poisoning ourselves, even if the catalyst was a virus made in Wuhan and released through incompetence or deliberately.
This will obviously lend weight to the idea that we've got to rigorously and thoroughly clean up our act, but we shouldn't lose sight of where and how this all started.
Day 21 – 13th April
Boris Johnson is out of hospital and convalescing at Chequers. Yesterday the death toll passed the 10,000 mark. As bad as it is there are those who think it will get far worse, but the predictions by the University of Washington in Seattle of 66,000 deaths in the UK by August have been dismissed as scare mongering and they have since revised their estimates.
Britain is following a simila trajectory as that of Spain, Italy, and France. Spain and Italy's daily death toll are now declinding. We don't know if the toll has peaked yet but it must surely be close if not passed. The NHS does now have the capacity to cope for the number of patients that need critical care, though there are the shortages of PPE. So 20,000 in total seems a more realistic total.
Spain is allowing non-essential works back to work, Sweden is tightening its rules after realising their more relaxed approach wasn't strict enough, Denmark is getting ready to reopen its schools, and Austria is also beginning to ease its national lockdown. So the signs are positive is some respects even though people continue to die in their thousands across Europe.
We've been blessed with warm weather and blue skies for days, and that has encouraged people to ignore the lockdown instructions, but today we awake to grey skies and much cooler temperatures (seasonal norm) so at least many will be deterred from gathering in parks to sunbathe, picnic, or swig from cans of cider.
Optimists and Pessimists
The analysis and reflection of the UK population's reaction to this pandemic has been ongoing since the day it started. People are considering the lessons the experience is delivering and what like will be like when it's all over. Will we simply return to 'normal' life or will there be some changes? If so, how many, how profound, and in what areas of personal and economic life?
One person seeing this pandemic as an opportunity is Dr Rupert Read, spokesman for Extinction Rebellion:
As we contemplate the havoc being wrought by coronavirus, most of us see mainly sickness, death and economic ruin. Dr Rupert Read, spokesman for the climate protest group Extinction Rebellion — plus sometime Green party candidate, and associate professor of philosophy at the University of East Anglia — has rather a different view. In this pandemic, he writes, 'there is a huge opportunity for XR… It is essential that we do not let this crisis go to waste.'
Read's thoughts are set out in a paper entitled 'Some strategic scenario-scoping of the coronavirus-XR nexus.' The paper is not meant to be widely read. 'NB, this is a confidential document for internal XR use, NOT for publication!' he writes at the head.

https://www.spectator.co.uk/article/revealed-extinction-rebellion-s-plans-to-exploit-the-Covid-crisis
It's worth reading the above then watching this video for additional insights into ER.
Day 22 – 14th April
It seems we are in peak week The indications are that we'll reach the apex in the coming days and the levelling off and descent will begin. Some have already suggested a date for the end of lockdown – May 7th. It's a good guess, but the danger is that if you start talking about the end of lockdown too early then people jump the gun and start relaxing their guard too soon.
The UK's death toll now stands at 11,329 but that's deaths in hospitals only. It doesn't include those who have died in care homes (and there have been many) or at home, with or without anyone to care for them in their final hours. I suspect that the figures will have to be revised several times in the months ahead before we know the full extent of the devastation.
The PM's condition continues to improve and he's made an appearance to thank the NHS, two nurses in particular, and has taken a stroll outside Chequers with his fiancée Carrie Symonds. It's being suggested that the experience has empowered him. Let's hope so. He can't be seen to be absent from centre stage for long.
America is climbing its slope now and the numbers are far worse than our own. 23,000 dead so far and half a million infected.
Britain awakes to see #TumpMeltdown trending on Twitter. The latest White House press briefing was a heated event to say the least. It appears that a CBS reporter asked Trump a question and before he could reply she asked another, then another, and another, each time talking over his reply.
This type of questioning is referred to as 'grilling' and the reporter scores plenty of points from the anti-Trump brigade for making him falter. It's not journalism and it's not reporting. If you don't allow someone to reply it's because you don't want to hear what they have to say.
"Twitter isn't real life" is an oft repeated phrase but it remains a make believe section of cyberspace. Trump remains as popular as ever, as does Boris. Jeremy Corbyn has gone despite all the hashtags that trended in his honour. Labour councillors continue to spout nasty and libellous comments only to find themselves rewarded with suspension or forced to issue a grovelling apology.
Note: I didn't post any more updates after this.
Summing up
After that last post above I didn't add any more. Things had become routine and events moved on. I posted once again in January 2021 during the third national lockdown.
On reflection, two years after this first national lockdown, several things stand out. In a time of crisis we look to our leaders for guidance and leadership and have since found them wanting. We put our trust in Public Health England and hung on every word of England's Chief Medical Officer, Sir Chris Whitty.
During those first lockdown briefings we believed every word because we had no other choice, but as questions were evaded or ignored it became apparent that there were other perspectives that were being censored.
The lockdown restrictions were championed by many (and still are). Those among the British people who were in favour of a second national lockdown tended to be those with reasonably comfortable homes with either their own gardens or access to green open spaces.
It's easy to pontificate about adhere to local restrictions if your fridge is full and there's cash in the bank. They are also those with a more authoritarian viewpoint, preferring to see people compelled to obey one simple instruction after another.
It turns out that the biggest threat for many was not the disease spreading but who they found themselves locked in with in certain household groups. Was the increased abuse of adults and children worth the price?